Shouldn't your menu be this good online.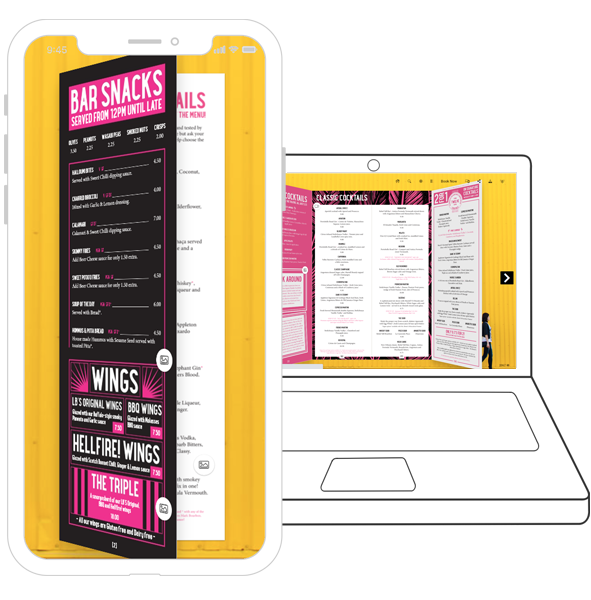 Stand Out In A Paperless World.
Your menu is much more than a list of what you serve. It communicates the soul of your restaurant. Nothing turns off a potential patron when they search for you online, only to be directed to an uber, yelp, or skip the dishes generic display of your menu items.
If you're trying to influence patrons, you need to start sharing your print menu the way they it is meant to be experienced. Just like the one above.
Simplebooklet can take your menu and give it digital superpowers. It's time to take back control of your menu online.
All you do is take the PDF version of your menu that you currently send to your printer and upload it to the Simplebooklet platform. Choose from one of our professional presentations and add your logo. Put in contact information and, if you have it, your online ordering page, so your potential patrons can easily connect with you.
Superpowers For Your Menus Online.
Simplebooklet automates everything. Search discovery is optimized with meta and structured data. Links get activated. Use notifications to let patron's know of specials, even if they don't open your menu. Deep-dive analytics, including realtime analytics reporting, give you the insight to act on all your engagement.
With your online menu, you'll be able to enhance your meals with video narration to give it that personal touch. Add additional images, photo slideshows with captions, and videos that pop out in lightboxes (so you can show off even more content that can fit on a regular print menu).
Get a QR code for your menu you can print out and stick on your entrance and at your tables. Post the menu as engaging content on your facebook and twitter feed, Google My Business and Yelp listings. Each Simplebooklet can be installed as a branded, native app that appears on the homescreen of your guest's device so they can take it with them (plus it works offline).
Some of the 500,000+ organizations using Simplebooklet