Shouldn't your lookbook be this good online.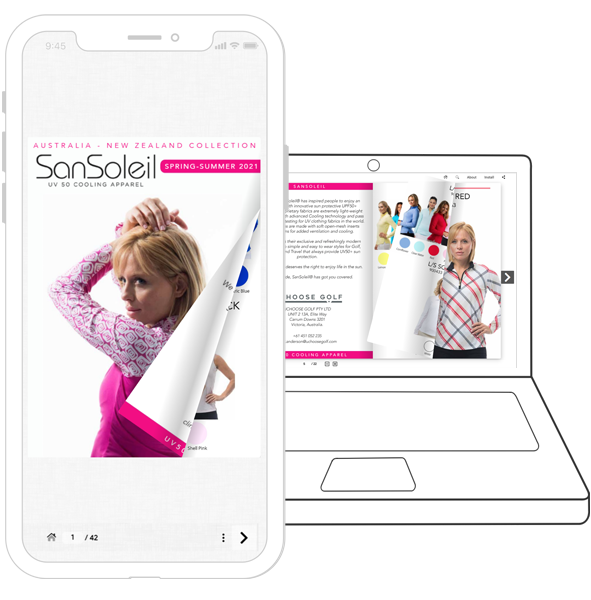 Stand Out In A Paperless World.
PDFs are a terrible way to treat your customers. No one wants to open a large attachment in an email, save a file on their device, or scroll through an uninspiring vertical, flat presentation. This isn't how you make a first impression.
If you're trying to influence customers, you need to start sharing your print lookbooks the way they are meant to be experienced, but better.
Simplebooklet can take your lookbook and give it digital superpowers.
All you do is take the PDF version of your lookbook that you currently send to your printer and upload it to the Simplebooklet platform. Choose from one of our professional presentations and add your logo. Put in contact information so your potential customers can easily connect with you.
Thought Experiment
Check out this destination activity brochure. Here it is as a PDF and as an online Simplebooklet.

PDF Digital

Which one do you think can be easily shared on social networks, sent in email, and posted to websites? Which one encourages your guest to engage with you? Here's a hint, not the 10MB PDF.
Superpowers For Your Lookbook.
Simplebooklet automates everything. Search discovery is optimized with meta and structured data. Links get activated. Your customers can keyword search for any product in your content. Deep-dive analytics, including realtime analytics reporting, give you the insight to act on all your engagement.
With your online lookbook, you'll be able to enhance your content with video narration to give it that personal touch. Add additional images, photo slideshows with captions, and videos that pop out in lightboxes (so you can show off even more content that can fit on a regular print catalog).
Post the lookbook as engaging content on your facebook, instagram, and twitter feed, and pinterest destination dreamboard. Each Simplebooklet can even be installed as a branded, native app that appears on the homescreen of your customer's device so they can take it with them (plus it works offline).
Some of the 500,000+ organizations using Simplebooklet