A better way to share your presentation online
(or what happens when people view your slides online when you aren't around to show them)
You can make some spectacular presentations with Google Slides, Powerpoint, and Keynote. They've got great templates available and it's easy to find other useful templates from third party providers. And all three presentation authoring platforms are pretty similar, you'll find the interface familiar and toolsets pretty straight-forward.
But presentations are designed to influence an audience, and the way your presentation is presented matters as much as the content in your slides. We forget how much influence we have in the presentation of our slides when we're standing at the front of a boardroom or on a stage. You need to make sure your slides are also presented in a way to influence your online audience, an audience that is viewing your slides without you standing right there guiding them.
How your slides are presented is a critical part of how influenced that online audience is by your slide content. You need to plan for and craft the entire journey your online audience member will take when they experience your presentation online: from how they get the initial link, what their experience is when they open that presentation, and what actions you hope to influence in them when they finish flipping through your slides. You should approach your online presentation the same way you approach designing a landing page. Here are four questions I ask myself when putting my presentations online.
How will I reach my online audience so they want to open my presentation?
Will the presentation of my presentation impress my online audience?
What do I want my online audience member to do after they have viewed my presentation?
Would I be impressed and influenced by this presentation?
So, let's take a look at how you can solve these questions with the tools available today. The example below shows just how good your Google Slides can look to your online audience when properly presented.
Terrible Ways We Share Powerpoint, Keynote, and Google Slides
We've all, without putting too much thought into it, shared our presentations with others as either an email attachment or from the google supplied weblink. Stop it. You are short changing your presentation and giving your online audience a negative experience viewing all your hard work.
Emailing An Attachment
First, let's get the worst way to share your presentation with an online audience out of the way. Emailing an attached file. No one wants to receive a 10mb + file that they have to download (especially with viruses these days) then hope they have a viewer that can open it. Don't do this to your online audience, they'll think you sent it from 1999, not 2019.
Sharing A Google Slides Weblink
Google Slides provides a unique weblink to share your slides online. I'm using Google Slides as the example because it does it the best. Copy and paste it then share it in email or some messaging app. If you are technically inclined, you can even embed it in another webpage. Google has done a good job in creating one to one sharing of your Slides.
But Google Slides falls down when you are trying to influence the experience of viewing those slides. Remember, they are focused on live presentations, even if that is done remotely in a screenshare. All the tools they provide are focused on a live presentation. They treat the experience of distributing, viewing, and audience call-to-actions, as secondary. Their prime focus is on making the content impressive but they ignore the importance of the way those slides are presented when you aren't around to do the presenting.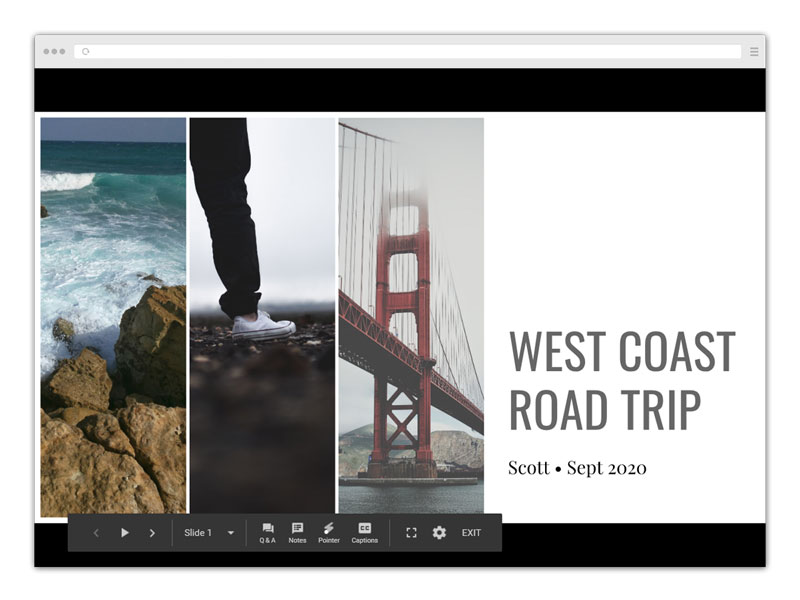 Don't get me wrong, the in-browser viewer for Google Slides is clean, fairly universal, and does the job of focusing your online audiences attention on the content inside your slides. But then the experience falls apart:
The experience of being invited to view that presentation is pretty generic and uninviting
When you open that weblink, you'll get a generic viewer without any supporting content (like your logo, contact information, about information)
Once you finish flipping through those slides, you're often just left hanging or with a 'thanks'
This hardly constitutes a good presentation experience for your online audience. And it doesn't do anything to achieve your influencing goals, which could be to get them to share the slide deck further, engage with you with questions or follow-up, or recognize you as an expert online.
The presentation of your slides online should have all the hallmarks of a good landing page. It should contain easy ways to contact you, some context as to why you are an expert on this topic, your business branding, and staging that brings a bit of joy to your audience's eyes. Sorry, but Google Slides viewer just doesn't have these features.
Let's look at ways to share your Google Slides to an online audience that doesn't have the benefit of you holding their hand through the presentation.
Solving The Sharing Issue
Tools like slideshare, speakerdeck, slideserve and scribd all try to solve the distribution problem by building specialized indexed libraries of presentations and categorizing them by their topic. They are very useful in getting broad reach to a larger audience and even introducing the presentee to more content you've produced. But your presentation remains flat and generic, without your brand and, well, just not that impressive as you have to view the slides in their proprietary viewers.
This is a great example of a slide deck shown in slideshare.net. The presentation is displayed with a lot of other distracting content and calls to action surrounding it. You start tapping through the slides but are easily distracted by all the other noise around the presentation. Plus, it's quite obvious that slideshare is trying to convince you to start using their platform, again distracting the viewer from the content in the slides.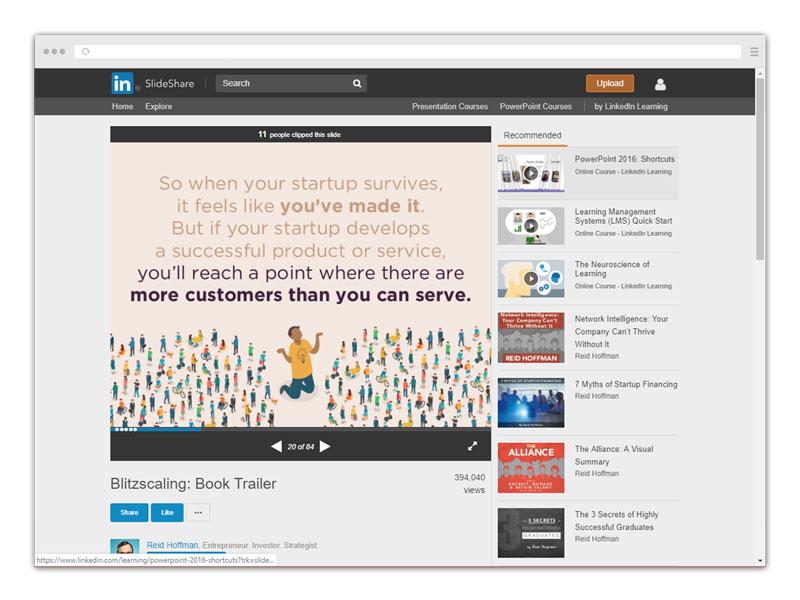 Simplebooklet addresses a number of these shortcomings. On simplebooklet, you get a dedicated microsite to host your Slides with a custom weblink that matches your own business domain. And this microsite is designed to make it extremely easy to get people to view it.
Since simplebooklet was designed around the concept that all content should go where people hang out, not force people to find you, there are a lot of ways to get your Slides to your online audience.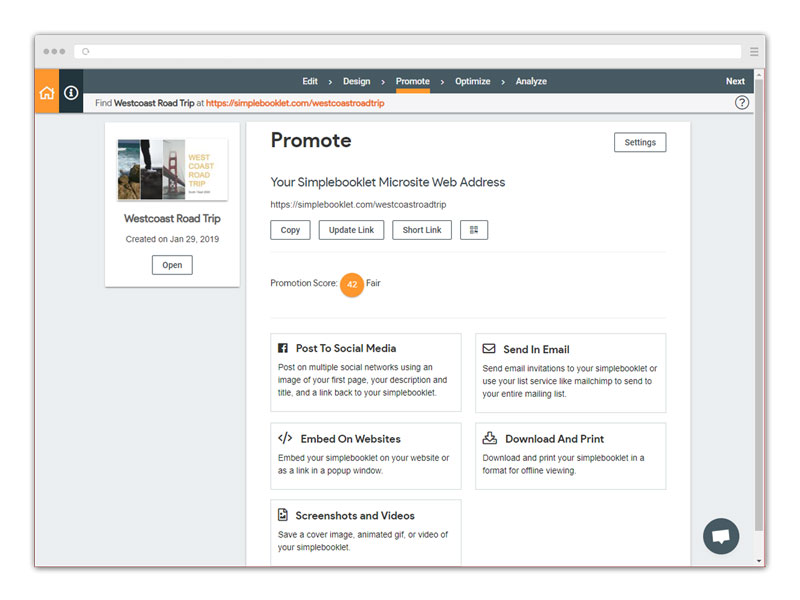 Send as a rich html email with an animated gif of your first three slides
Post to facebook as a video that links back to your simplebooklet microsite
Post to pinterest so your presentation gets distributed to various topic boards
Use the embed code to add it to your own existing blog or website
Share it's unique weblink that uses your own custom domain
Use a number of the third party integrations to share it on proprietary platforms
You'll find it incredibly fast to get your slides into the hands of those who want to view your presentation.
Solving The Presentation Issue
This one has always been a challenge. Probably because most services have looked at the primary use case of a slide deck as something you use to get your ideas across when you are standing there presenting them. They just don't address the issues that arise when a presentation is presented without the presenter (that's a mouthful).
Most people, when they want to make sure their presentation is staged properly online, will use a service like unbounce to build a landing page to display the presentation. Or, if you are a coding ninja, you might know what it takes to use the embed code provided by Google Slides to add it to your existing website. But both these approaches require a lot of technical know how and often permissions from a website administrator. They take a lot of time to get done.
Simplebooklet has a few unique solutions to these issues.
First, it's very easy to import your Google Slides into a simplebooklet microsite. You can use the Add-On for Simplebooklet Google Slides integrated right into Slides. You simply select convert my slides into a microsite from the Add On menu and voila, it's uploaded and optimized for viewing on your simplebooklet microsite. So no need to build a unique landing page or contact a webmaster to embed your presentation.
For Powerpoint and Keynote, you take your file and upload it directly on the simplebooklet dashboard. Simplebooklet converts it automatically for you.
But that's just the beginning. You can then customize the background, slide transitions, the placement of flip buttons, and the supporting content that supports your presentation. You'll notice in the example above that all this supporting content is designed to compliment the presentation of your Google slides, not distract from the slide content.
Your logo placed in the the browser tab and navigation menu
A table of contents in a familiar hamburger menu
A contact us and about supporting menu that give your slides context
A custom background which helps reinforce your message
Custom transitions that wow your audience instead of just a traditional slide to the next slide
Complimentary tools to navigate the slides
This is about showing your online audience that even though you can't present your slides to them in real life, you care enough to show them your content in a way that looks like you took the time to impress them. This is key to creating a great first impression and steering the online audience to a call to action.
Voice Narration
A pretty effective part of the simplebooklet presentation is voice narration. This allows you to record your own voice for each slide. So instead of leaving it up to a couple of bullet points to make your point, you can use your voice to clearly communicate your message.
Adding voice overs makes your audience feel like you are in the room with them while they flip through your slides and often provides the passion and clarity that you want to be understood.
Solving The Call To Action Issue
We've all experienced this, the dreaded 'thank you' slide at the end of a deck. Sure, it works when done to a live audience. But to an online audience, it leaves them hanging. Most presentations aren't movies, so why do you end with a 'the end' slide. You are trying to convince someone to buy your product, learn more about your services, or influence others on the thought leadership you provide. The end of your slide should influence your audience to take the action you want.
Again, slideshare.net and others do an adequate job of getting your audience to take the next step. But they are all trying to build a destination so their priority is to get you to stay on their sites and click on other presentations, not necessarily yours. Take a look and you'll see a chat section filled with useless comments that aren't on topic, and you'll get a list of other presentations from other companies and individuals. All these distract your customer from your call to action.
With simplebooklet, these are a few of the tools you can use to influence your audience on their next action.
Add buttons to your slide that send a viewer to your website or online store
Add a mailchimp signup form so they are part of your mailing list
Add an item from your shopify store so the viewer can immediately buy your product
Add a lead gate that captures information from your viewer before they view your content
Create a curated gallery of all your presentations so you can build influence with your audience
Best of all, this is all presented in a dedicated microsite, so your slides are the only slides that your viewer if focused on.
Some example Presentation Slides on simplebooklet